__________________________




Back
Gilbert Lodge Blog
Tour the entrance level and corporate offices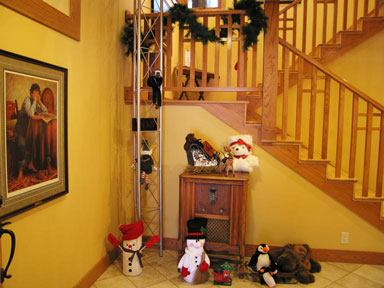 Visitors are greeted by a 1929 Majestic radio next to a tower inside the front lobby to Gilbert Lodge. On the left wall is a painting entitled Radio Daze by Jim Daly.
This photo was taken during the Christmas season. Hence the holiday decorations. Click on the photo for a larger image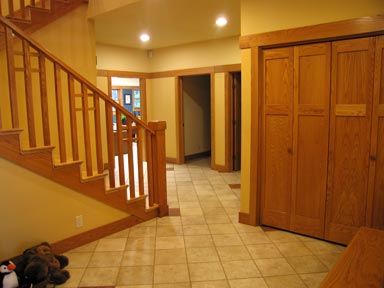 Visitors walk toward the offices with the Grand Staircase on the left in the entry at Gilbert Lodge. Click on the photo for a larger image

The "Executive Washroom" is just off the entrance and is appointed much like it might have been 70 years ago. There is a pedestal sink and there are five framed photographs from WEBC Radio in Duluth, MN, from the mid-1930's. Back then there were no color photos, so these are in cine-tone. You can click on the image for a larger view.
| | |
| --- | --- |
| | Here is Paula in the corporate office suite. |
| | |
| --- | --- |
| | Mark sits just across from her at Gilbert Lodge. |
The Electronics Shop where electronic equipment is built and shipped nation-wide. Radio broadcast equipment is repaired here as well.

Photo by Hammer Photography.

Click on the photo for a larger image

| | |
| --- | --- |
| | Tour the Tech/Electrical Room by clicking here. |
---
The Grand Staircase leading from the Entrance Level to the Gilbert Lodge Penthouse.

Photo by Hammer Photography.

Click on the photo for a larger image
Looking up to the Penthouse, you might be greeted by Josie, the cat. She is NOT afraid of height.

Click on the photo for a larger image
---
page last edited 06/24/2015