__________________________



Tuesday, January 30, 2
018:
A lighthouse at the end of a pier at the Aerial Bridge in Duluth, Minnesota.
It shown brightly in the early morning ice fog over Lake Superior.

The sky colors were changing as the sun was about to come up.

Finally the sun showed itself to Duluth and all the world.

Paula and Mark headed up the north shore of Lake Superior and saw this fisherman trying his luck in 10 degree temperature.

There is a house on a hill further north. The view from there must be fantastic in clear weather, which it was not on this day.

The Silver Creek Cliff has a tunnel. There is another tunnel further up the shore too.

Paula warmed her feet in the visitor center at Gooseberry Falls State Park.
The falls were completely frozen over, but you can see a previous adventure on this blog.

Split Rock lighthouse stands above the lake, as it since 1910.
It safely guided ships away from shore until 1969.
Now it is a destination and run by the Minnesota Historical Society.

Paula was out exploring on a stream where the water was mostly frozen. She has no fear.

Ah, but there was some open water. Paula is at home in the water as a SCUBA diver.
She took a photo for her Facebook account.

S
alt and paper shakers look out from the Blue Fin Grille at the Blue Fin Bay Resort on the North Shore of Lake Superior.
Mark and Paula enjoyed lunch while looking over the frozen water.

After lunch it was time to go out and see more ice along the lake.

More ice to show off the lake's beauty.

Hmmm...they must be getting up north if Bog Foot was spotted wandering about.

The road into Grand Marais, Minnesota, reminded Mark and Paula of the TV series Northern Exposure.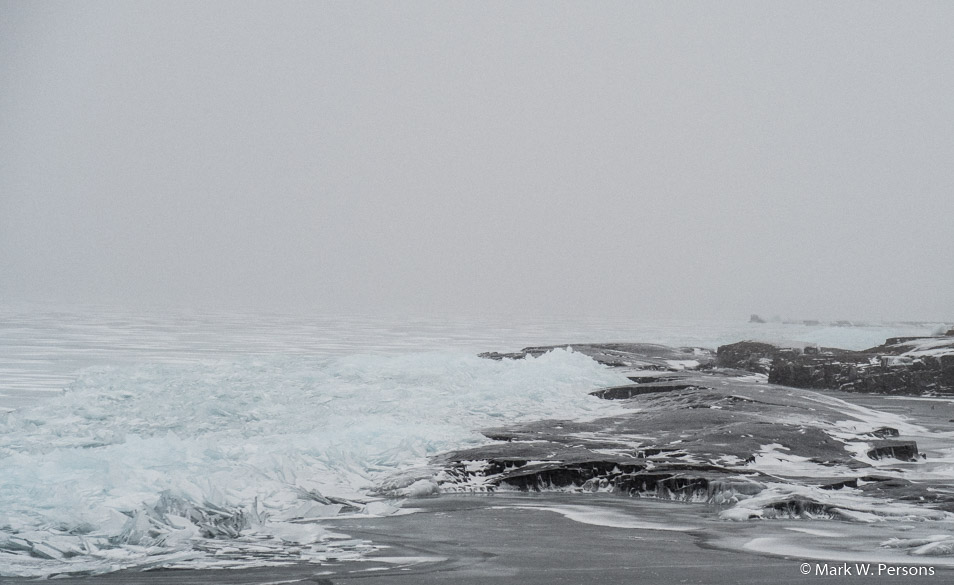 Another look at the ice at Grand Marais. Lake Superior is huge and ice can pound the shore.

It was time for supper so the Dynamic Duo stopped at the Gunflint Tavern. They were not disappointed.

Mark and Paula came out to find a snow storm in progress.

They stayed at the Superior Inn. Fortunately the weather stayed outside and they were warm inside.

---
---
page last edited 02/09/2018