__________________________




Back

Gilbert Lodge Blog
The life and times of Mark and Paula Persons
Tuesday, September 4, 2012: Mark and Paula stayed at the Greengate Farm on Washington Island at the northeastern tip of Wisconsin.

One of the attractions there is a world-class Amateur Radio (Ham) station with huge antennas.
There is plenty of equipment, some of which goes back 70 years.
Proprietors of the place are Susan and George Ulm.

George holds the Amateur Radio call sign W9EVT.

He proudly showed off his Collins Radio room.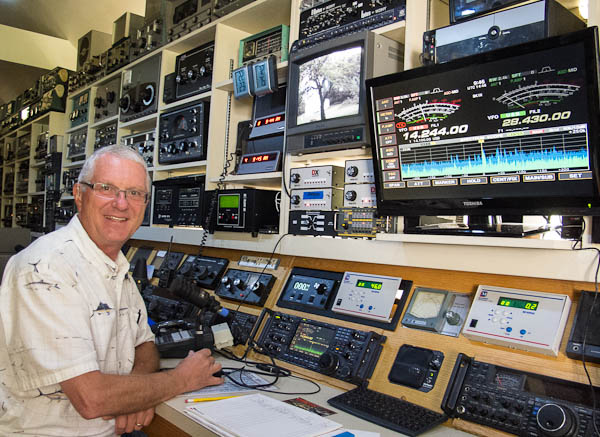 Mark (WØMH) was especially happy to be allowed to operate the Icom 7800 Transceiver with an Alpha 1000 watt linear amplifier for a day.

He made some 36 contacts across the country and into Canada, Romania, England, Mexico, Prince Edward Island, Cypress, the British Isles, Canary Island, France, Spain, and the Isle of Man.

Great stuff!
The log book above is a record of who, when, and where.

Many of those places responded with QSL cards confirming the contact. To the left are three cards that came in along with the one that Mark sent out in return.
The radio building is so stuffed with equipment that George had doors put on the outside so he could get access to the wiring behind the equipment.
---
September 16, 2012 e-mail:
Thanks Mark for sharing the pictures and your operating experience. Must have been difficult to pick out which rig and antenna to use. Take care 73's Lyle in Merrifield, Minnesota.
---
---
page last edited 09/26/2012