__________________________




Back

Gilbert Lodge Blog
The life and times of Mark and Paula Persons
Tuesday, September 4, 2012: Mark and Paula stayed in a cabin at the Greengate Farm run by Susan and George Ulm on Washington Island in Door County Wisconsin. A great tourist destination.

There was even a guest book to record memories of the visit.
The farm is a restful place.

Situated on the north side of the island, there was a beautiful view of Lake Michigan.

Paula even went out on a kayak for an hour in the afternoon.
There was plenty to see including mushrooms that are plentiful in the nearby woods.
---
Stop here!

This looks like a good place.

Any restaurant that cooks lawyers, can't be bad.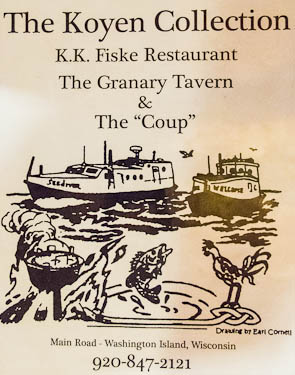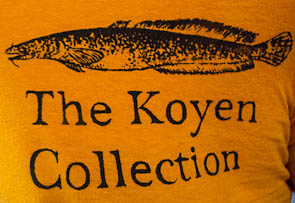 Yes, it is the restaurant of Kenny Koyen, the only remaining commercial fisherman on the island.

Lawyers, are fish caught locally.
Island Wheat Ale is a favorite on the at the place.

It is brewed by Capital Brewery in Wisconsin.

The glass has a map of the island, which is just six miles across.
Yes, you can't go there without ordering fish. It is their specialty.

Happy customers will attest to that.
---
---
page last edited 09/18/2012