__________________________



Saturday, January 25, 2020: The annual Braienrd Jaycees Ice Fishing Extravaganza.
Taking that first step onto the ice was a big one for many who are not from the northland.
Some 10,000 holes were drilled in the ice, on Gull Lake, for fishermen and women in this event that raised $150,000 for charity.


Not sure, but it looks like this young lady may be billing herself as the "catch of the day!"


People dressed for the occassion.


There were plenty of places to warm up.


Local radio station KBLB/B93 was on hand to broadcat live from the event and keep fisherpeople informed about
the largest fish caught to that moment.


Tha National Anthem was the kickoff for the event at noon.


This is less than one-quarter of the scene on Gull Lake that day.


Then the fish started coming to the weigh-in tent.


Paula's fishing buddy Hunter Lund caught a good sized fish in the first ten minutes.
Paula had a good nibble or two, but did not reel in a single fish!


A mother and her son, a U.S. Air Force veteran, who retired after 14 years of service.


This was a family event too.


Lots of selfies that day.


Then there was Warren Arnold of Sauk Rapids, Minnesota. He caught an 8.29 pound Eelpout.
Yes, it is an ugly and somewhat ndesirable fish, but it made him the first place winner of a new pickup truck.
The only decision he had to make was chosing between a Ford and a Chevy.


Fish are put back into the lake. About half survive the experience.
The other half were donated to a project where veterans are treated to a banquet of fish. Great eating.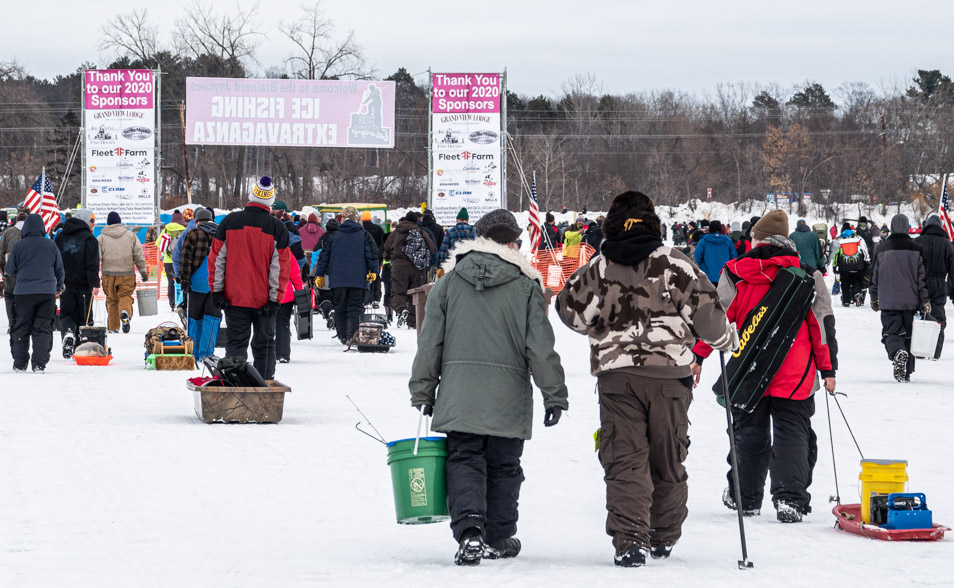 Yes, they headed home at the end with the desire to try again next year.
Those in aircraft got a good view. The Salvation Army was there with hot chocolate to warm the participants on their way home.
---
---
page last edited 02/02/2020