__________________________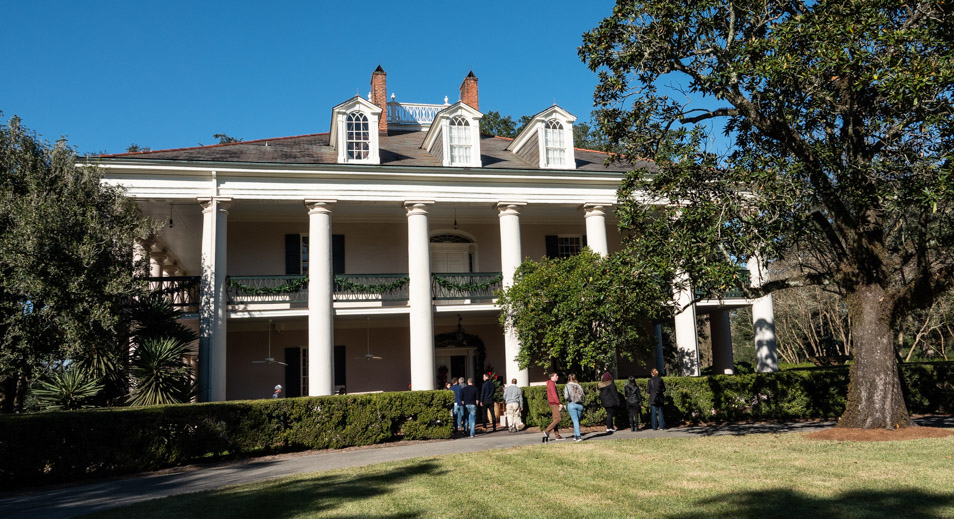 Wednesday, December 5, 2
018:
Mark and Paula ventured to the Oak Alley Plantation, about an hour from New Orleans.

It is called Oak Alley because of the massive oak trees that cover an entrance walkway to the plantation "Big House."

The lush warm Louisiana climate grows plants year round.
A bell was used, in the old days, to summon help from nearby plantations if there was a fire or other problem.
Each bell had a different sound so people would know which plantation to head to.

Plantations here raised sugar cane that was tended to by slaves in the old days.
Slaves quarters were available for people to see.

No indoor plumbing 200 years ago.
The outhouse on the left with the round hole was for men. The one with a crescent moon was for women.
---
Mark and Paula arrived back in New Orleans in time to see red and blue over the Mississippi River, just after sunset.

Piano players are found at almost all high-end restaurants in New Orleans.

The town gets a lot louder after sunset.

Bourbon Street in New Orleans.
---
---
page last edited 12/19/2018