__________________________



Saturday, January 27, 2
018:
The annual Gull Lake Fishing Extravaganza was held, about 15 miles north of Brainerd.
It was a BIG step to walk onto the ice, but courage got them through.
A big welcome. This event is put on by The Brainerd Jaycees as a $150,000 fund raiser for charity.

The fishermen and women came in great numbers, about 11,000.

They were there to have a great time. Some even fished!

Plenty of fun while waiting for the event to start.

(l-r) Great Fisherwoman Paula was there with relatives Mary and Bob Scott.

Facemasks are always a good idea at this event as there is often a northwest wind. Some masks are a bit crazy.
Fortunately the temperature that day was in the 20s above zero. It has been as low as -30 in past years.
Fish depth sounders are a big accessory. This one is showing fifteen feet to the bottom.

Everyone respectfully stood for the National Anthem including four people currently serving in our nation's military.

Then the fishing began and fish were brought into the weigh-in tent. Even Superman caught a fish.

Happy fishermen showed off their catch.

Fish brought in that day included Walleye, Northern Pike, Tullibee and Perch, which is what you see here.

A Nice Tullibee. Most are found near the lake bottom.

Everyone wanted a "Crappie T-shirt."

The Minnesota Department of Natural Resources was there to do a fish count.
One part was to watch after the process of putting fish back in the water.
It sometimes takes a few minutes for fish to reacclimatize themselves.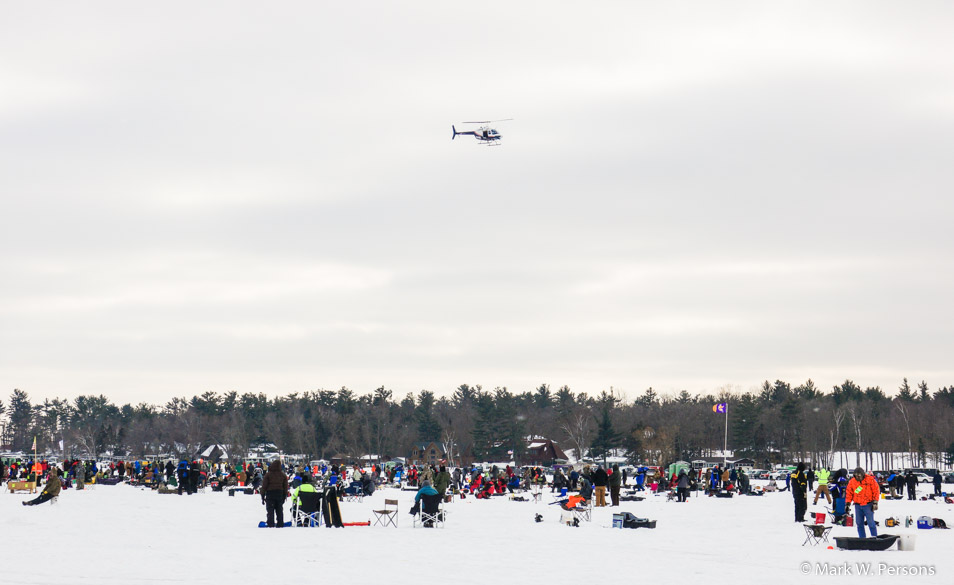 A chopper was seen flying over the event.

There was a drone flying about too, but Gilbert Lodge Photographer Mark decided to ride in a helicopter instead.
He is no stranger to height or helicopters. His first helicopter ride was in Vietnam back in 1968.

A look at the ice where the 11,000 people were.

A closer look showed Paula just to the right of center in a tan coat kneeling at a fishing hole.
But darn, she didn't catch any fish! Better luck next year, Paula.

More views from up above.

Now there's an interesting fishing rig.

Lots of flag raisers too.

Young and old alike, they showed up to fish. Then there was always the "one that got away." Darn.

More happy folks, some of them having a real BBQ.

Air personality Michele Mulvaney from Hubbard Broadcasting was there doing live radio broadcasts.
The guy on the right was smoking a cigar. Yes, he could do that in the open area without worrying about offending anyone.

Steven Lyogky from Hartville, Ohio, brought in a 3.10 pound Northern Pike to win a new vehicle.
He chose a GMC pickup truck. Then it was time to go home and dream about returning next year.
---
---
page last edited 02/07/2018