__________________________



Saturday July 16, 2016:

Mark attended a Wings of the North air show.

It was at Flying Cloud Airport in Eagan, Minnesota.

A Boeing B-17G Flying Fortress roared overhead.

Entertainment that day was by Urban Star.

They are from Minneapolis.

Nicely done.

Lots of airplanes to see including this Douglas A-1 Skyraider, along with its pilot. These planes saw a lot of action in Vietnam. They could loiter for hours waiting for a call to dive in and provide devastating support to troops on the ground. Twelve bombs in the racks plus two fuel tanks below the wings.

Mark liked this U. S. Navy plane with Popeye.

A formation flyover of no less than seven North American T-6 Texan Trainers trailing smoke.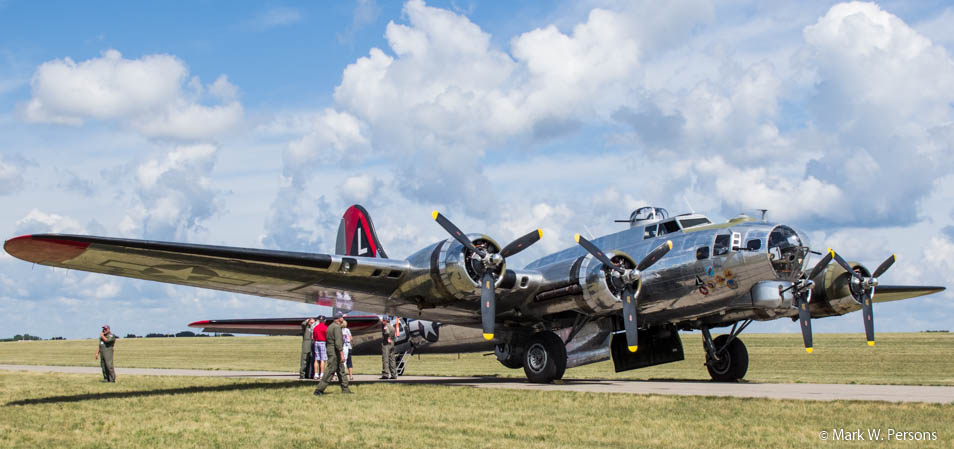 Yankee Lady, a B-17G Flying Fortress, was there. Built in 1945, she is owned by the Yankee Air Museum in Belleville, Michigan.
A sister ship, Aluminum Overcast, was flying at La Crosse, Wisconsin, that day. Both were giving rides to the public.

Yes, passengers were having a great time. The pilots check everything and are a bit more serious.

The crew is a tight-knit group. They take care of their lady.

Old vintage airplanes were on site for rides too. WWII re-enactors were on hand as well.

A salute to victory. The P-51 Mustang and the TB-3 Devastator flew over the crowd in formation.
---
---
page last edited 07/25/2016