__________________________



Monday, May 30, 2016: Memorial Day ceremonies in Brainerd, Minnesota, starting at 8:30 AM on the Laurel Street Bridge over the Mississippi River.
A wreath was thrown in the river honoring Navy personnel who died. The Brainerd Fire Department proudly displayed their huge flag.

A firing squad was there with a 21 gun salute honoring servicemen and women who are no longer with us.

Marti Judd from the Brainerd VFW played taps.
Ceremonies were also held at the All Veterans Memorial and the Brainerd National Guard Armory that morning.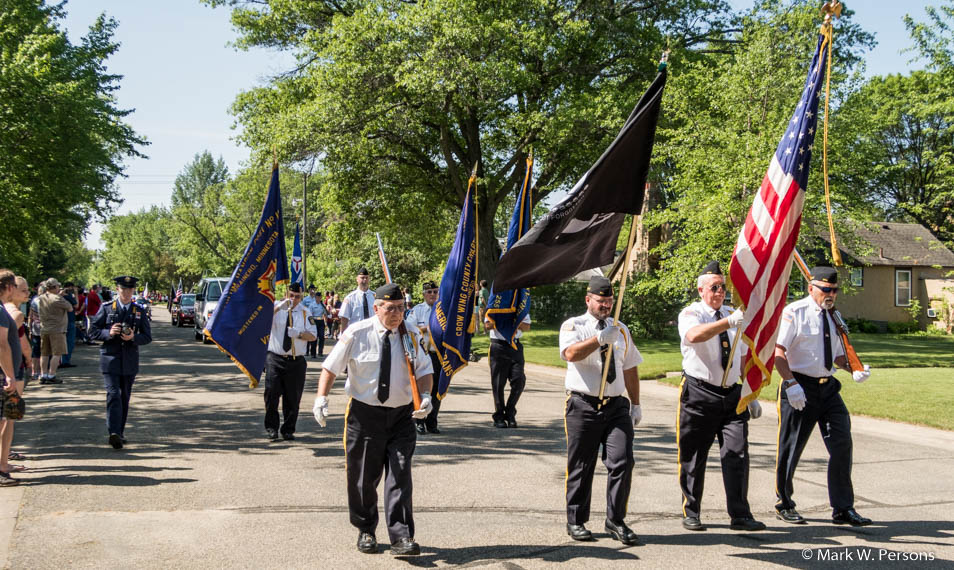 Then there was a parade to Evergreen Cemetery on the north side of Brainerd.

Even the Civil Air Patrol and American Legion Riders participated.

A crowd of many hundreds gathered at Evergreen Cemetery.

The Brainerd High School band played. They sounded very good.

Temperatures that day were in the upper 70s. Who could ask for more?

Brainerd VFW Post 1647 Auxiliary Voice of Democracy winner Ava Figliuzzi led the assembled in the Pledge of Allegiance.
The guest speaker was Bill Wroolie, a U. S. Army helicopter door gunner in his younger days.
Bill was wounded in Viet Nam, but recovered to become state and then national commander of the Military Order of the Purple Heart.

The crowd was very respectful.
---
---
---
page last edited 06/22/2016