__________________________




Back

Gilbert Lodge Blog
The life and times of Mark and Paula Persons
Thursday, March 3, 2016: Mark and Paula were dismantling the desks in their office after first removing eight filing cabinets and a copying machine. These are custom desks with tops that weigh in at about 100 pounds each. They are made of three or more major pieces and screwed together. In addition, telephone, computer, and power wiring is attached underneath. Those utilities are supplied through electrical conduits coming up through the floor. Not an easy task to move this office furniture.

Paula temporarily took over another room in the facility to do her office work.
Mark setup his office in the shop next to the Amateur Radio equipment. At least he had windows to look out of.
---
Monday, March 7, 2016:

Rob and Jake De Rosier showed up in truck with new carpeting for the office.

They are brothers and took over a carpet laying business from their father.

Like father like son.

The carpet was supplied by Russ Caughey at Northwest Carpet in Brainerd.
They said not a word, but went straight to their work removing 12-year-old carpeting. They are a great team.

New carpeting came in and was rolled out for measuring.

Then cement went down and the carpet was carefully fit into the corners.

They were done in just four hours. Nice work, guys!
---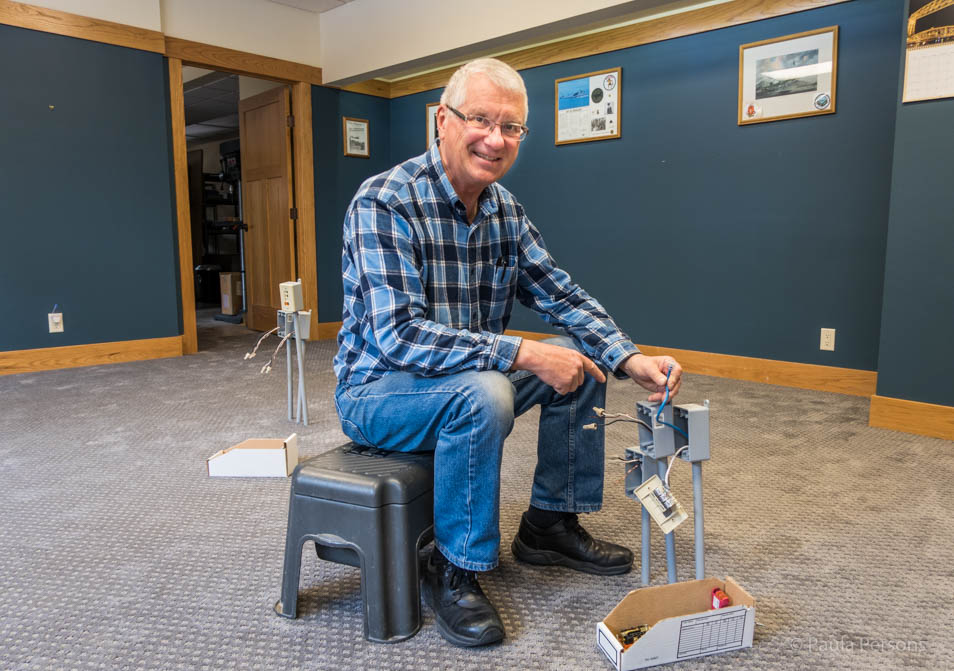 Now for the "rest of the story." It was time for Mark to get to work rewiring the electrical conduits. This is the kind of work he did as a radio broadcast engineer on the road for years. He might be all smiles, but in his mind, "Hmmm...which wire goes here?"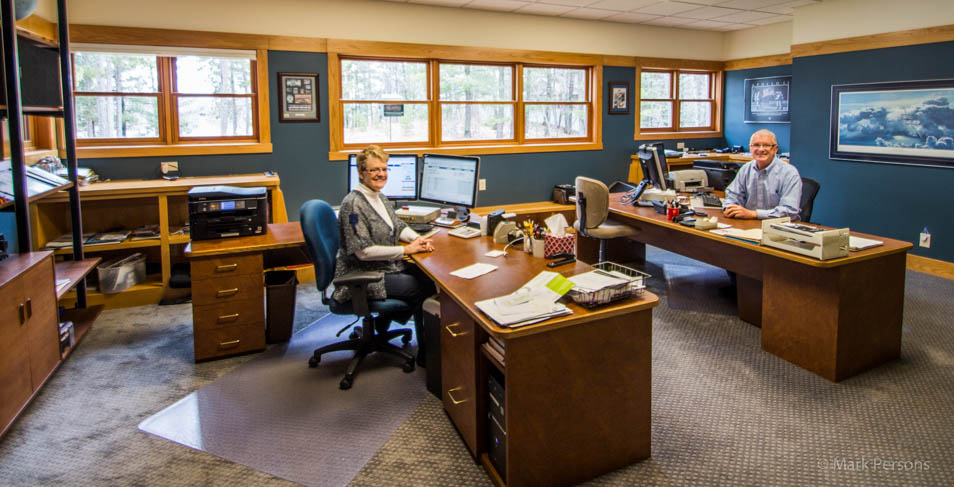 Wednesday, March 9, 2016:
Ta Da! Finished. The final accounting showed it took three man-days to take the office apart and put it all put back together again. Something like Humpty Dumpty.
Office computers are not on the floor, but inside the desks where they are protected from vacuum cleaners and other accidental abuse. You can see the one at Paula's desk is black in color and is just above the floor in the center of the photo. The computer compartment back is open for cabling and ventilation. This has proven to be an excellent way to keep computers off the desktops. You will also see that the desktops are at keyboard height (27 inches)....no keyboard drawers. Keyboards and phones are primary business tools and conveniently available.
The office windows face north and look out through trees onto Gilbert Lake.
---
| | |
| --- | --- |
| | Inside corners of the desktops that are at a 45 degree angle and keyboard width so Mark and Paula look at their monitors, with keyboards below, while they have desk space to the left and right. A great design solution to making an efficient office. |
---
---
page last edited 03/23/2016