__________________________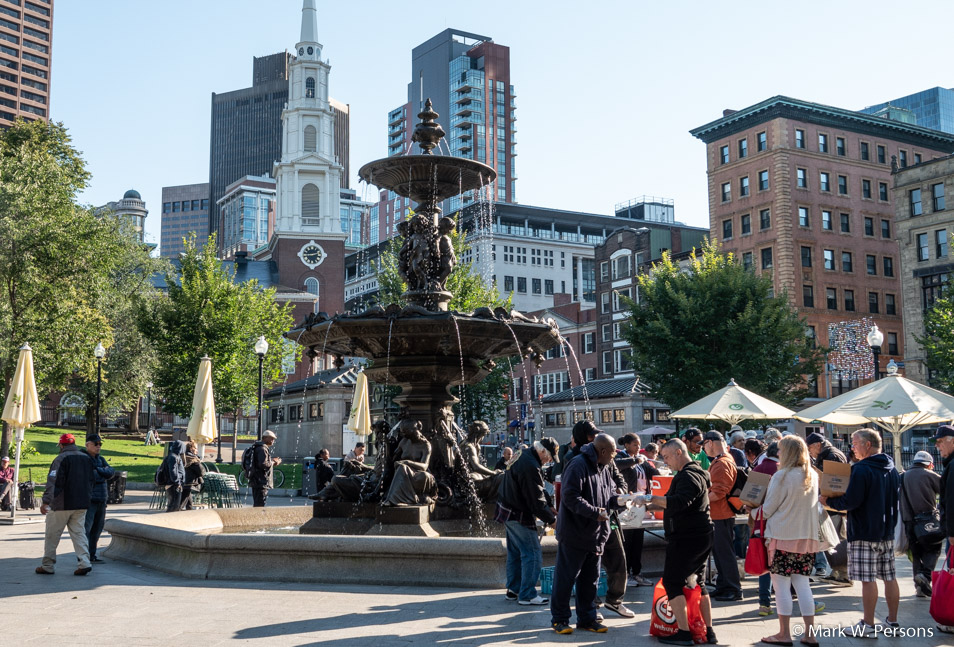 Saturday, September 29, 2
018:
The Dynamic Duo of Mark and Paula headed out on the Freedom Trail in Boston.
Plenty to see including this fountain on a 65 degree morning.

They came across the home of Paul Revere. It is surrounded by newer ones, but is preserved as a national landmark.

There is a print shop in the basement and a statue of Revere nearby riding to spread the alarm that the, "British are coming!"

The U.S.S. Constitution is on the north side of Boston. Built in 1794, she gained the nickname, "Old Ironsides" because canon balls from enemy ships would bounce harmlessly off her sides. The secret was in the multiple types of wood selected and how they were combined in the hull. She is now a museum and a testament to defending America.

Paula stood near the bow where lines from the main sail came down to the deck. Mark preferred to "man the helm."

You may have noticed the Bunker Hill Monument in Paula's photo. Here it is up close, overlooking the city of Boston.
Mark and Paula climbed the 294 steps to the top. The view was worth every step.

Historian re-enactors told the story about how American colonists rebelled against British in the Battle of Bunker Hill, an opening act in the American Revolutionary War.

Boston has many statues, marking events of the past.

Among the historic sites in Boston is the Green Dragon Tavern. Established in 1864, it was a favorite spot for Paul Revere.
It was also frequented by historical figures John Hancock and Daniel Webster. History is everywhere in this city.

The evening brings out interesting people looking for tips on the street.

Boston streets are safe at night and nicely lit. The town is peppered with historic spots.
The Park Street Church is on the left and the Old State House is on the right.
---
---
page last edited 10/27/2018