__________________________




Back

Gilbert Lodge Blog
The life and times of Mark and Paula Persons
Friday, July 5, 2013:

A 1929 Ford Tri-Motor airplane landed at the Brainerd Lakes Regional Airport.

Everyone wanted to see the plane, sometimes called the "Tin Goose."

Yes, it was in Brainerd in 1929 and returned for an encore this day.
Tickets to ride were sold by these two aviation buffs.

Given time, the young guy will probably look like the one on the left.
The cockpit is roomy enough for two people so Mark decided to fly in the co-pilot's seat.

The controls were looked enough, so why not?
Mark got his cameras setup while John was taxiing to the runway.

Engines typically run at 1700 to 1800 RPM while in flight.
The plane easily lifted off at 65 miles per hour. It cruises at 85 to 95 MPH.

Mark was allowed to fly the plane for a few minutes.

He remarked that it is easy to fly...the controls felt just right.

Yes, it is a noisy and slow bird, but just plain fun!

It doesn't even have retractable landing gear.

Just simple and easy.
---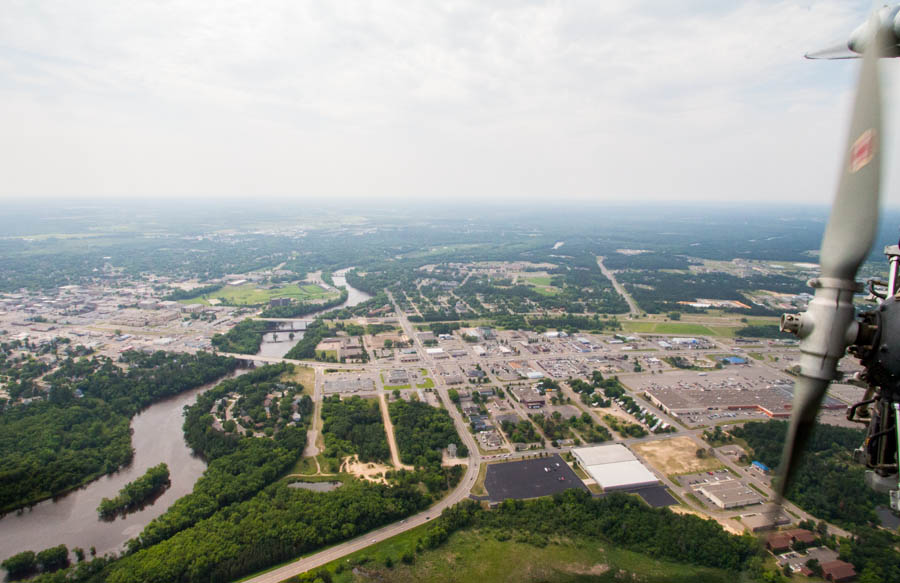 The city of Brainerd could be seen off the starboard wing as the big bird graced the sky. Certainly a different view than people normally have.

---
Then there it was, Gilbert Lodge was nestled along the east bank of Gilbert Lake.

You can see it just to the right of center with a green roof.

The Minnow is at the dock just to the left.
There was the tri-motor lumbering by, as seen from the Lodge.
All good things must come to an end.

Soon the plane was headed back to the airport.
Mark was seen kissing the ground immediately after returning safely.

Actually, he was a very happy flyer.

His reward was a handsome certificate signed by the pilot.
---
---
page last edited 07/14/2013