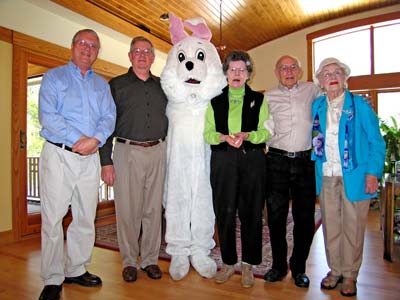 Finally, the group posed for a photo. (l-r) Mark Persons, Jim Barry, the Easter Bunny, Ione Timman, her husband Chet, and June Persons. A fine time was had by all this Easter at Gilbert Lodge.
The ice went out from Gilbert Lake on Thursday, April 19th. The first boat was seen on the lake on Monday, April 23rd. Lake water is just above 32 degrees F and it take be a month of warming before anyone goes swimming in it.
Monday, April 30th, The leaves are starting to show on the trees. The dock was installed in Gilbert Lake. Grounds Keeper Paula transplanted four lilac bushes to the Gilbert Lodge grounds.