__________________________



Wednesday, May 6
, 2020:
Mark and Paula stopped at St. Joseph's Hospital in Brainerd to do photography.
Two military jets were scheduled to fly over at about 11 am that morning honoring healthcare workers.
Paula stayed outside.
Mark entered the hospital and was greeted by a nurse who immediately took his temperature. Fortunately all was OK.
Soon Mark was up to the roof. Looking northeast, the former paper mill was visible along with its water tower.
A view toward Baxter showed a number of stores.
The almost vacant hospital parking lot at 9 am started to fill up with visitors.
You can see two of Brainerd's water towers in this view.
Healthcare workers came out of back emergency entrance and were greeted by more spectators.
The helipad was a good place to stand.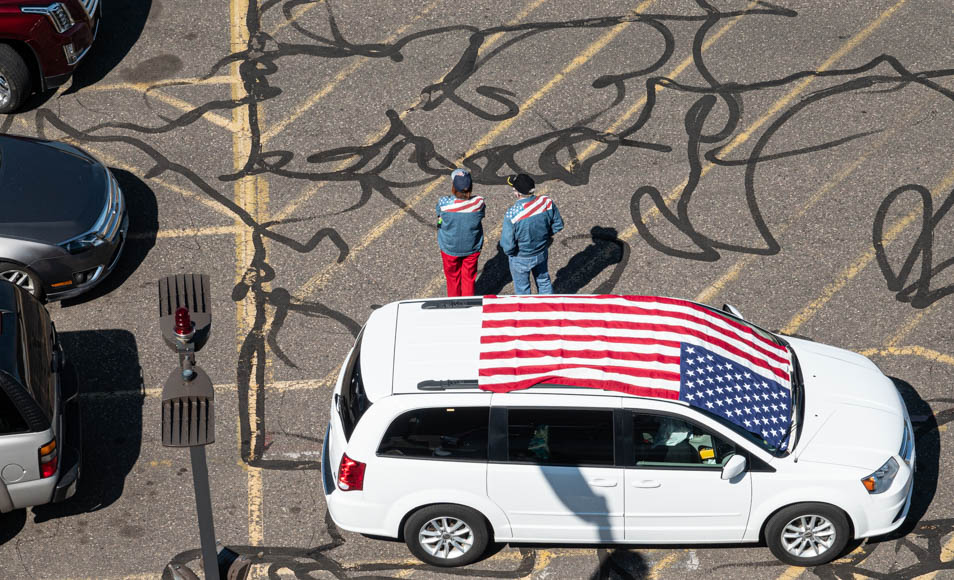 Nice to see patriotic people show up in honor of the day.
Maintenance workers were on one of the hospital roofs trying to get a better view.
Brainerd's historic concrete water tower was seen on the left in the background.
Photobug Paula was safe on the ground wearing a mask.
Steve Kohls, staff photographer from the Brainerd Dispatch newspaper was on the roof.
Mark is seen as the bump on the roof in the upper right side of the photo.
The crowd started waving as they saw the jets come into sight.
There they were, a pair of Minnesota National Guard F-16 Fighting Falcons, overhead in just seconds. They came from Duluth and flew down the Mississippi River through Brainerd, Little Falls, St. Cloud and on to the Twin Cities of Minneapolis and St. Paul. All of this in honor of health care workers who risk their lives during the COVID-19 outbreak.
---
---
page last edited 05/17/2020