__________________________



Tuesday, May 2, 2017: There was a presentation at the Brainerd Public Library on the history of World War I. The war started in Europe in 1914. The United States became involved in April of 1917 and the war finally ended on the 11th hour of November 11th, 1918. More than 42 million people were wounded, missing, or died. That includes civilians, along with service men and women. It was called the "war to end all wars," but was really a prelude to World War II some twenty years later.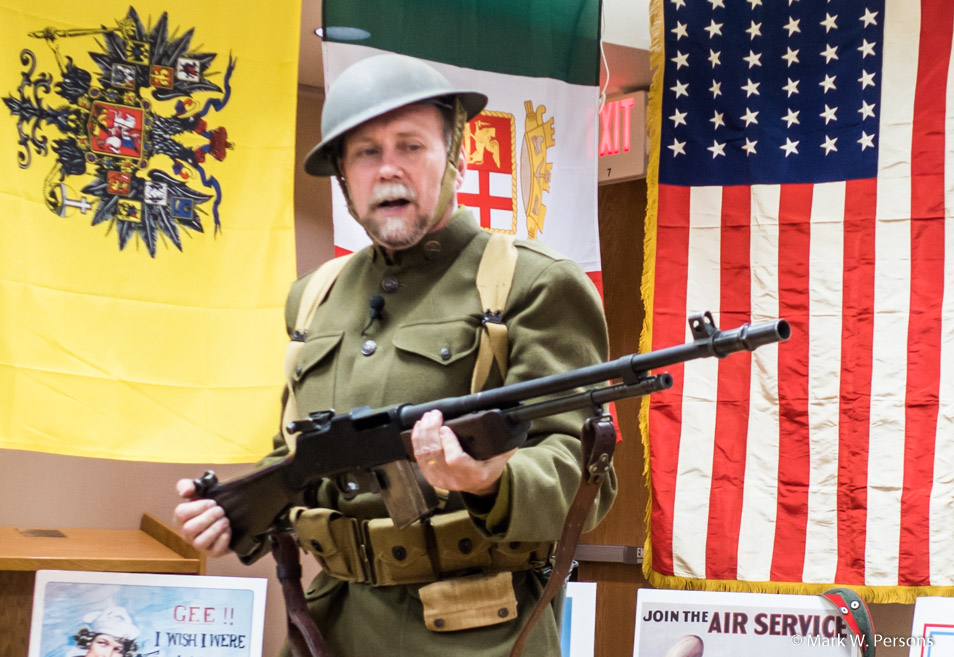 The presentation was put on by Arn Kind from Mankato, Minnesota. Arn is a retired school teacher and now historical presenter.
He is shown here holding a .30 caliber Browning Automatic Rifle.

Recruiting posters and the basic equipment that a soldier carried.

Lots of weapons from that time 100 years ago. Machine guns came on big time in this war.

There were those who distinguished themselves in the conflict.

The full U.S. military soldier's uniform with gas mask. Note the shallow steel helmet. German helmets are shown at his feet.
Those did a much better job of covering a soldier's head and are much like what today's soldiers are wearing.
The weapon is a .30-06 Springfield bolt-action rifle.
Learn more at: http://historicalexperiences.org
---
---
page last edited 05/28/2017