__________________________




Back

Gilbert Lodge Blog
The life and times of Mark and Paula Persons
Saturday, January 25, 2014: The annual Brainerd Jaycees $150,000 Ice Fishing Extravaganza was held.
Paula was packed and ready.

With some 10,000 people fishing, there was no public parking of cars on the ice, which was about 20 inches thick.
Instead, there were parking areas a few miles away and shuttle busses with announcers giving fishing advice.

Then it was down to the lake. Hmmm...is the ice safe?
It is always that first step that is a "giant leap for mankind's faith for walking on water."

So, out on the ice they marched.
Fisherwoman Paula was in the northwest quadrant of the contest with her back to the wind.

Temperatures that day topped at just above zero with a northwest wind which pulled the apparent temperature to 20 or 30 below zero.

People came from all over the world to fish this one.
Even a few pirates showed up.
If you want to know how to dress, just ask this couple. The answer is fur coats.

As for hats, how about one with the American flag.

Fish started coming in just minutes after the noon start of the contest.

There were prizes for large and small fish.

Lots of happy fishermen and fisherwomen.
The fish just kept coming in.

Say, the guy with the deer hat...I wonder if that is what he was using to catch fish?

Nice walleye.

Plenty of fish in the cooler too after the weigh-in.

Time for a cigar after catching a good size fish.
Brainerd Helicopter Service was there to get a look from the air. Nice people and good pilots.
Mark remembers helicopters from when he was in the service. That was long ago.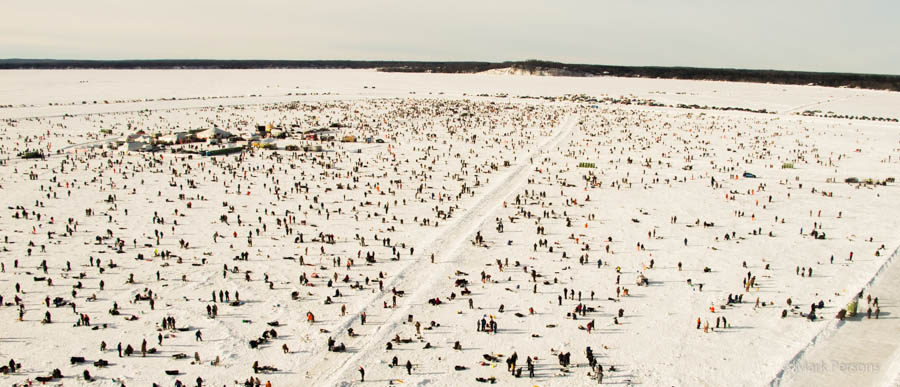 Nice view from the air.
Thousands showed up to fish in their colorful clothing.


This is an annual event that is more than fishing.
It is about getting together for fun on the ice.

Happy people.
One woman was dressed in a beautiful blanket.

Then there was the winner. Art Karsky of Nisswa, Minnesota, brought in a 4.73 pound walleye from 55 feet of water in the southeastern quadrant of the contest site. It was just seven minutes before the contest was over. His prize was a new pickup truck.

Radio station B93.3 was there to tell everyone about it.

When it was over, participants left the ice vowing to return next year and do it all over again.

Yes, someone else drove home in Paula's new pickup truck AGAIN THIS YEAR! Better luck next year, Paula!
---
January 27, 2014 email:

Mark, Great photos of the fishing contest! Debbie in Woodland, California.
---
---
page last edited 02/25/2014